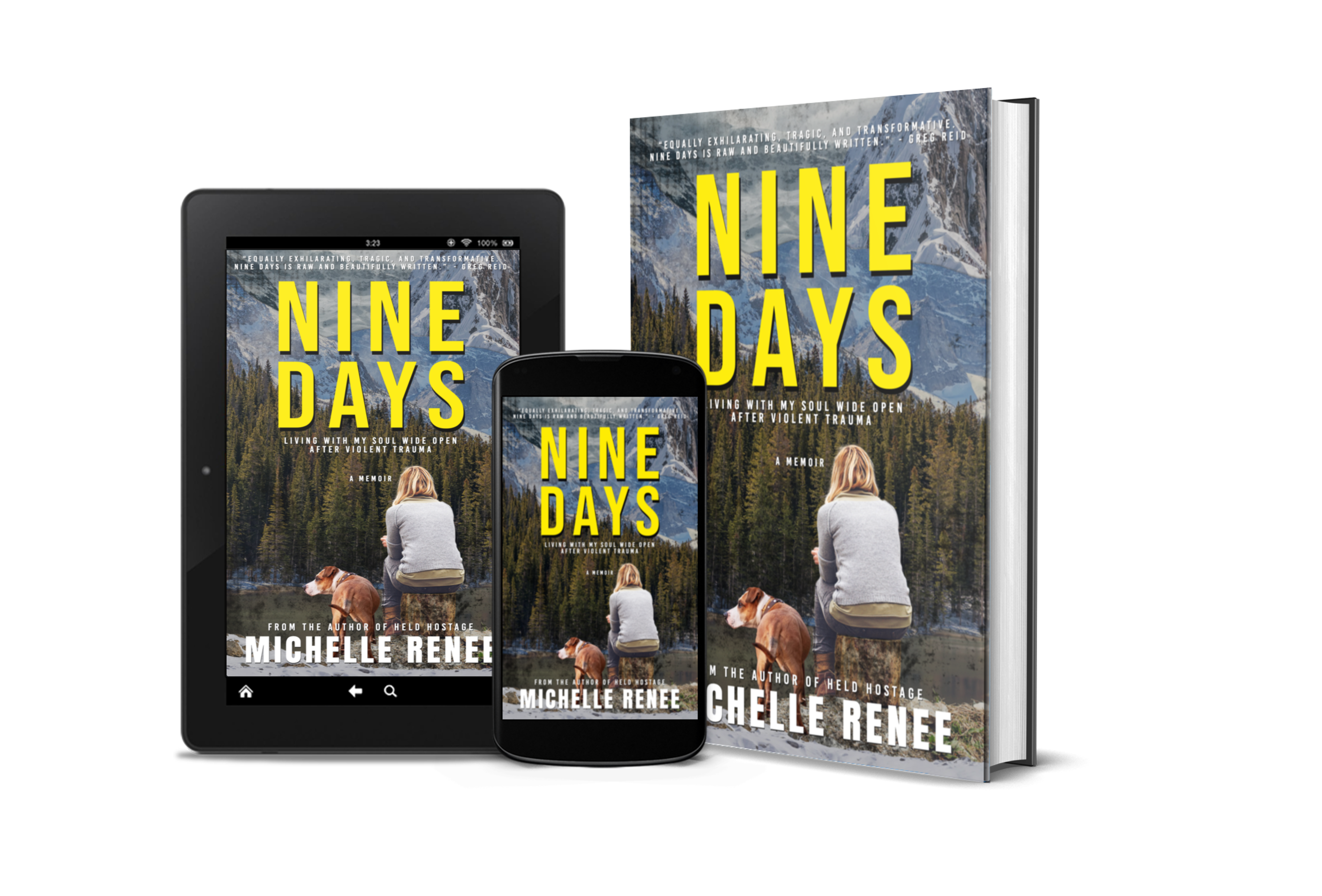 Nine Days: Living With My Soul Wide Open
After Violent Trauma
Michelle's debut memoir is a riveting look at her journey through the healing process after surviving a violent trauma that began as she embarked on a solo road trip into the Alaskan Wilderness.  In Nine Days readers will learn how Michelle and her daughter overcame incredible odds, faced their fears, and one of their kidnappers…again.  This terrifying yet transformative story is one that will inspire readers to live with their souls wide open no matter what they have survived.
Get your copy here: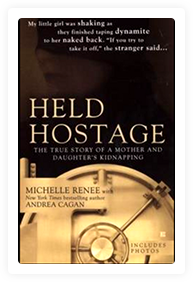 The true crime book details the horrific home invasion kidnapping and bank robbery scheme carried out by masked gunmen against Michelle and Her daughter.  Rich with FBI reports and investigative information, this work was turned into a Lifetime movie of the same title.  
Anniversary Edition Coming Soon!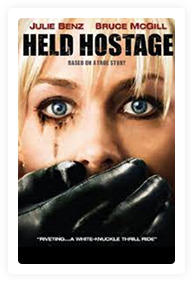 Julie Benz, the famed Dexter actress, plays Michelle in this riveting account based on Michelle's debut book of the same title released by Lifetime Movie Network. Michelle served as co-writer. and Assoc. Producer on the film.    
Testimonials
A Feat of Empathy
"Renee brings healing full circle as, years later, she moves toward active, radical forgiveness in a face-to-face encounter with the past. The result is complex and heartening, a feat of empathy. Healing, forgiveness, and a marvelous road trip power this touching memoir."

Comparable Titles: Lysa Terkeurst's Forgiving What You Can't Forget, and Stephanie Foo's What My Bones Know.
Publishers Weekly/BookLife Editorial Review
Heartbreaking and Inspiring
"Nine Days is a journey of healing, rebuilding trust, and forgiveness after a traumatic event. A Mother's love guiding the way in that journey. Michelle Renee's memoir is both heartbreaking and inspiring, with moments where we are tempted to lose faith in humanity, only to have it strengthened by the love between a Mother and her Daughter in their quest to live."
don Miguel Ruiz Jr.
Spiritual Teacher, and Global Best-Selling Author, Mastery of Self and The 5 Levels of Attachment
The Path Forward
"Michelle's courage to share her story and 'go on' in hopes of inspiring others to live beyond their trauma is something for each and every one of us to take inspiration from. Read Nine Days and let her grit, deep love for her daughter and commitment to healing her life help you create the path forward."
Dr. Ken Druck
Author, How We Go On: Self-Compassion, Courage and Gratitude on The Path Forward.
Raw and Beautifully Written
"Equally exhilarating, tragic, and transformative. NINE DAYS is raw and beautifully written."
Greg Reid
Global Best-Selling Author, Three Feet From Gold
Self-Responsibility and Forgiveness
Michelle's and Breea's story inspires me to be a better man. By taking responsibility for her future and freeing herself from the prison of the past, Michelle uses the power of forgiveness to heal what would have destroyed most people. Thank you for sharing all you experienced and learned.
Dr. Lance Wilson
Amazon Review
Heart Wide Open
Michelle Renee's memoir is incredibly inspiring, not just because of the rollercoaster of traumatic events that occur throughout her life, but because of her ability to keep her heart open, and listen to the voice of her Soul. She was unshakable in her determination to not allow the circumstances of life to close her heart. I bow to her as a mother. The story is at times harrowing, heartbreaking, and ultimately triumphant. Michelle proves that we are in control of our own lives and our destiny. Thank you Michelle for having the courage to share your story — it's incredibly inspiring!
Jana Wilson
Amazon Review
An Absolute Must Read!
I am amazed at the trust she had on this trip; how fully and openly she lives after all her trauma and tragedies. I can attest, she lives with her SOUL WIDE OPEN and she shares her story in hopes everyone who reads this book does too!
Kayla
Amazon Review
Amazing Journey of Healing
Michelle's story is incredible. She is the definition of resilience and perseverance. Anyone looking for hope, healing, and forgiveness would enjoy this book.
Nikki
Amazon Review
Fantastic Read
I've known Michelle for a little bit of time now. On the surface, she is an amazing person who is warm and giving. When I started reading her book and after looking at her book trailer I was blown away by her story. I was shocked. I never knew. It was powerful and motivating. Her story and tone and colorful voice are shown in this book. I highly recommend this read! 10/10
Andre Evans
Amazon Review
Unbelievable Resilience
Michelle and her daughter exhibited unbelievable resilience in the face of many life events that would have kept most of us down. Reading their story of grit, forgiveness passion, and undying love inspires us all!!
Angie Miller
Amazon Review
Well Written
Nine Days takes you on the journey alongside Michelle. At first read it pulls you in. Her incredible journey of healing is inspiring.
Kris Cumo
Amazon review
Great Read!
This book is focused on healing, relationships, and learning to live freely without the chains of trauma. This is about the resilience of the human spirit, a mother's love, transformation, redemption, and self-discovery.
Wildangel
Amazon Review
Beautiful Reminders for Life!
This book is so wonderful in many ways. As soon as I purchased it and started reading I knew I was not going to be able to put the book down. The beginning is so sweet and exciting and scary , yet you as the reader, are anxious to read about Michelle's journey. Very impressed that a person could go through so much and have a giant heart at the end. Makes you grateful for life and reminds us what really should matter. Highly recommend this book.
Philip Jacobs
Amazon Review
Eye Opening. Soul Searching
Michelle takes you on her healing journey. LOVE LOVE LOVE the book. Took me less then 5 hours from start to finish. She is honest and makes you think. Great book to be reread again and again. Truly a healing experience if read with an open mind and soul. I would recommend as Michelle lays it all out there and allows you to journey with her as she learns forgiveness and to truly be happy with herself. I learned so much by being open to allowing myself to heal.
Belinda.
Amazon Review
Raw and Beautifully Written
"Equally exhilarating, tragic, and transformative. NINE DAYS is raw and beautifully written."
Greg Reid
Global Best-Selling Author, Three Feet From Gold
The Path Forward
"Michelle's courage to share her story and 'go on' in hopes of inspiring others to live beyond their trauma is something for each and every one of us to take inspiration from. Read Nine Days and let her grit, deep love for her daughter and commitment to healing her life help you create the path forward."
Dr. Ken Druck
Author, How We Go On: Self-Compassion, Courage and Gratitude on The Path Forward
Heartbreaking and Inspiring
"Nine Days is a journey of healing, rebuilding trust, and forgiveness after a traumatic event. A Mother's love guides the way in that journey. Michelle Renee's memoir is both heartbreaking and inspiring, with moments where we are tempted to lose faith in humanity, only to have it strengthened by the love between a Mother and her Daughter in their quest to live."
don Miguel Ruiz Jr
Spiritual Teacher, and Global Best-Selling Author, Mastery of Self and The 5 Levels of Attachment
There Is No Higher Virtue
"Michelle Renee has written a very compelling book detailing her and her daughter's traumatic victimization. But instead of hiding from it, she became a spokesperson for Violent Trauma Awareness and now offers hope and encouragement to others who have experienced similar events in their lives. There is no higher virtue."
Angie Callahan
Advertising Director, Daily Press
Inspiring Story of Survival
"Michelle Renee has an inspiring story of survival as a victim-survivor of violent crime. We have worked together to promote restorative justice via The Justice & Reconciliation Project (JRP). Michelle is an over-comer who is compassionate and committed to positive change."
Lisa Rea
President and Founder, The Justice & Reconciliation Project (JRP)
A Depth of Knowledge
"Michelle is an inspired speaker with a depth of knowledge. She moved our group of ex-offenders to self-reflection…not an easy task."
Deke Simon
Hired Michelle as a speaker in educational documentary